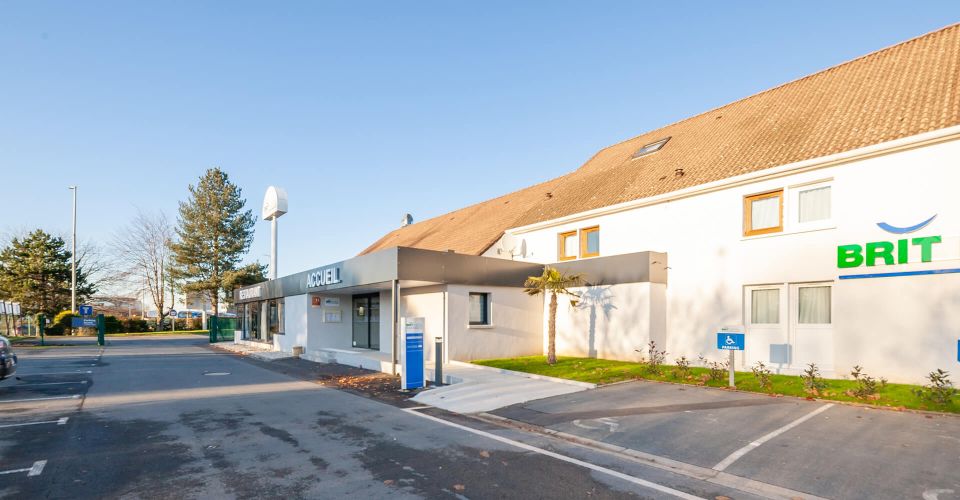 Quick and easy access to our hotel in Caen Nord.
Address : 36 avenue du Maréchal Montgomery, Quartier du Mémorial, 14000 Caen, France.
From the A13 motorway : from Paris or the provinces, direction Caen centre, then the northern ring road, exit 6, turn right in front of the Memorial or exit 7, follow Memorial.
From the A84 motorway : from Rennes follow the North ring road, then exit 7 Memorial, turn left at the first traffic lights.
By city bus, from the Twisto network.
Line n°2 direction La Folie - Mémorial, stop Mémorial which is the last stop of line n°2.
Line n°14 Caen Théâtre towards Hérouville Shopping Centre, stop De Lattre de Tassigny.
Line n°18, St-Contest Buron towards Louvigny rue Michelet, stop De Lattre de Tassigny.
More information about your Brit Hotel
Our coordinates are at : :
Tel: +33 2 31 44 36 36 Fax: +33 2 31 95 62 62
Email: caen-nord@brithotel.fr
GPS: 49° 12' 7.2" N, 0° 23' 27.6" W
The Caen-Carpiquet airport is located 15 minutes away, as is the Caen SNCF train station (5 kms)
Practical information.
Welcome to our hotel in Caen Nord.
Our hotel is open 24 hours a day and we have a night watchman to welcome you in any circumstances during the day or in the middle of the night. Finally, our private, closed and secured parking is free of charge. Take advantage of it !
Our restaurant is open for lunch and dinner on weekdays. On Friday evenings and weekends, our restaurant is open for group reservations. Call us to make sure we can serve you. Services where our restaurant is not open, we offer our customers a snacking menu.
Means of payment.
For the sake of clarity for our customers, we announce that we accept the following methods of payment.
Bank checks.
Holiday cheques.
Bank Card / Visa Mastercard.
American Express.
Dining out tickets.